Dear friends,
It is with great joy today that we announce the news you have all been patiently waiting for – we are re-opening Station Island from Sunday 1st May with a full Pilgrimage programme and you can book your place from today!
This includes our One Day Retreats, the Three Day Pilgrimage and the new Pilgrimage experience along the Lough Derg Pilgrim Path.
This week, our new Pilgrim Shelter Museum has been unveiled at the lakeshore ahead of us re-opening the Island. We were delighted to welcome back previous Priors of Lough Derg Fr Owen McEneaney and Msgr Richard Mohan who joined Fr La at the official opening, along with representatives from Donegal County Council. We look forward to your visit this summer when you will have the chance to see for yourselves our new museum and the 1500 year Timeline of Lough Derg in the Visitor Centre.
Fr La remarked today about the summer ahead, "In what has been a most challenging time for everyone, at Lough Derg, we experienced our own challenges. We acknowledge how much our loyal pilgrims missed their annual Pilgrimage on Station Island and we are delighted to announce we are re-opening the Island for the usual One Day Retreats in May, August and September and for the Three Day Pilgrimage 1st June – 15th August. Our guided pilgrimage walk experience on the lakeshore Lough Derg Pilgrim Path, born out of necessity when Station Island was closed, is also here to stay, with selected dates throughout the summer.
Our new museum celebrates Lough Derg in history, and today is a historic moment in itself. Our dedicated team has been putting plans in place for pilgrims to return in a safe manner. This is a year for us to encourage anyone who has always thought about visiting, or who has had the Three Day Pilgrimage on their 'bucket-list', to come and see what it is all about. It is an opportunity particularly for those who feel the need to 'switch off', and for others it may perhaps be a chance to re-connect with God. Our boats are ready to welcome pilgrims on board, no matter where their spiritual journey has taken them."
Speaking about the launch of the new museum, Fr La added, "The dream of a lakeshore museum, long cherished especially by Maureen Boyle and Mary McDaid, became a realistic project because of the grant-aid we received from Donegal County Council under the auspices of a Minor Tourism Related Works Grant Scheme; we are indebted to the awarding body for their significant funding towards this new development.
We will be delighted to welcome many people – pilgrims, visitors and tourists – to this wonderful new facility when the Pilgrimage Season officially re-opens on Sunday 1st May."
The full list of dates for our 2022 Season are below and you can book now here on our website: (link to booking page)
Further information for booking a One Day Retreat, Three Day Pilgrimage, the Pilgrim Path lakeshore pilgrimage and group tours and visits are available from www.loughderg.org, email info@loughderg.org, tel 00353 (0) 71 9861518.
We look forward to welcoming you back soon! Blessings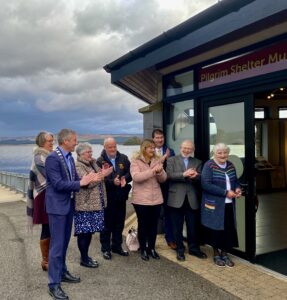 Keep up to date regularly with Lough Derg here