Pope Francis Patris Corde
Pope Francis' Apostolic Letter (Dec 2020) to mark the 150th Anniversary of Saint Joseph as Patron of the Universal Church, proclaimed by Pius IX on 8 December 1870.
Weight: 50g
Pope Francis offers a warm and very personal reflection on the importance of Saint Joseph as the husband of Mary, the father of Our Saviour and protector of the Church. Announcing a year dedicated to Saint Joseph, the Holy Father presents Saint Joseph as an example of the type of tender, loving and courageous father so sorely needed in the world of the Church.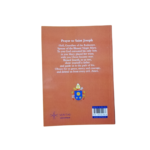 Back cover