Christmas Mass Bouquet – St. Patrick's Cross, Lough Derg
What better gift could you give this Christmas than a bouquet of Masses?
The Prior, Fr La, will offer a triduum of Masses, beginning on Christmas Day for all those who receive a Lough Derg Christmas Mass Bouquet. Your donation for these cards is very much appreciated and will go directly towards the current restoration work on St. Patrick's Basilica on the island.
When you complete your order a member of the team will contact you to take the name of the person you wish to enrol.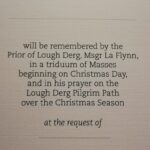 Text inside card
(name) will be remembered by the Prior of LoughDerg, Msgr La Flynn, in a triduum of Masses beginning on Christmas Day, and in his prayer on the Lough Derg Pilgrim Path over the Christmas Season at the request of (name)
Donation options €5,€7, €10